Twenty years after John Galliano first turned newspaper printed textiles into garments under the name of his Paris-based eponymous brand, as well as that of Christian Dior, Pretty Little Thing ("PLT") decided to try its hand at it. The result? The Manchester-based fast fashion retailer – which has built a thriving business thanks to an unending lineup of affordable celebrity-inspired wares – caused a stir on social media over the weekend when DJ-slash-model-slash-YouTube star Chantal Jeffries posted a photo of herself on Instagram wearing a newspaper printed dress and tagged PLT as the source of the garment.
Social media users were quick to point out the similarity between the PLT dress and the newspaper-print creations that John Galliano famously showed in the early 2000s. His printed wares were so timely that when they first appeared on a Christian Dior runway in February 2000, one dress, in particular, swiftly made its way from the runway to fashion plate Carrie Bradshaw in a season three episode of Sex and the City, which aired just months later. (The HBO series nabbed itself the title of one of the most fashionable television programs of all time, with stylist Patricia Field helping to set the stage for fashion trends in that decade and beyond.)
For fashion fans with a knowledge of coveted, decade-old wares, the use of a newspaper print as the pattern for garments is something so closely associated with the work of Galliano (at least for a season or two) that the tie between his creations and the PLT dress – which is currently on sale for $18 on the company's US site – is undeniable, a point that is bolstered by the fact that at least part of PLT's newspaper print appears to be taken directly from one of Galliano's garments.
This hypothetical case at hand is striking beyond the mere point-and-call-foul that comes with so many modern fast fashion knockoffs. For one thing, it is worth noting that PLT's use of a newspaper print, alone, likely does not give rise to infringement issues. Chances are, the use of a newspaper print falls within the "idea-expression dichotomy," a copyright law tenet that provides that protection extends only to the expression of an idea, and not to the idea, itself.
As such, Galliano and/or Dior would only be able claim protection over the specific embodiment of their newspaper designs by other brands, not the overall newspaper-as-textile concept as a while. This means that unless PLT's print is "substantially similar" to Galliano and/or Dior's prints (that is the general test for gauging copyright infringement), the fast fashion brand would be in the clear from a copyright perspective. This is how Diane Von Furstenberg, Balenciaga, Jean Paul Gaultier, Comme des Garçons, Moschino, Versace, and even Galliano, among others, have gotten away with showing newspaper printed clothing and accessories after Elsa Schiaparelli first did it in the 1930s.
Interestingly enough, that level of similarity is likely met for at least part of the print that appears on PLT's offerings: a section of the newspaper print used by the 8-year old fast fashion brand for its wares is an exact replica of what Galliano created and used on a t-shirt for his eponymous label – from the content of the fictional newspaper article to the font to a drawing of the designer, himself. (It is worth noting that the other sections of the PLT dress do not, however, mirror the rest of the Galliano t-shirt.)
Putting aside potential copyright issues, this hypothetical case is not closed, as John Galliano and the John Galliano brand (which the designer is no longer affiliated with but may still maintain an ownership stake in) very well might have merited trademark infringement claims against PLT, as the designer and fashion brand both maintain rights in the "John Galliano" trademark in various jurisdictions. John Galliano S.A., for instance, maintains a trademark registration in the U.S., where PLT has an operating arm, for the name in connection with clothing.
Meanwhile, John Galliano, himself, is named on registrations in the European Union and in the United Kingdom, where PLT is based, for the "John Galliano" name for use on clothing.
This means that they could likely make successful infringement claims against PLT for using the name if they can establish a likelihood of confusion, namely, that consumers are likely to be confused about the source of the PLT garments or John Galliano's involvement in the creation of them given that the Galliano name appears on them. (There is a chance that the newspaper former would throw a wrench in the works, and give rise to a chance for PLT to argue that it was not using the Galliano name as a trademark (i.e., to identify the source of the dress), but instead, was using it in a decorative way.)
Still yet, there might be room for right of publicity (in the U.S.) and passing off (in the UK) claims, as Mr. Galliano very well could argue that PLT is misappropriating his name and likeness. In the U.S., state-specific right of publicity laws give individuals the right to control unauthorized commercial uses of their name, likeness, or other recognizable aspects of their persona. In accordance with this doctrine, Galliano has grounds to take action when his name, image, likeness, etc. is used for commercial purposes, which is precisely what PLT is doing here.
In the United Kingdom, similar protection comes by way of the "passing off," a cause of action that prohibits the use of another's name or image on a product or service in a way that is likely to mislead the consuming public into believing that the individual authorized or approved such use.
Generally speaking, it was "understood that merely putting a celebrity's image on merchandise without their permission does not constitute an infringement of their rights" in accordance with the law in the united Kingdom, according to Bird & Bird associate Hilary Atherton. That changed to some extent, however, in January 2015 when the Court of Appeal of England and Wales sided with Rihanna Fenty in the case that she filed against Topshop for manufacturing and selling t-shirts bearing a photo of her without her authorization.
In that case, the Court of Appeal determined that Topshop's sale of the t-shirts at issue amounted to passing off because the retailer's use of Rihanna's image was likely to lead consumers to believe that the famed musician endorsed such use when she had not. The court was largely swayed by the sheer amount of fame that Rihanna enjoys, the level of recognition associated with the image at issue, and the pattern of collaboration at play – generally – among Rihanna (and other famous famous), and various clothing brands and retailers.
These factors could prove persuasive if Mr. Galliano were to make a case for passing off. For one thing, as a result of his celebrated tenure as creative director at Christian Dior beginning in 1996 and the highly-publicized, anti-Semitic scandal that got him ousted in 2011, and his work at Maison Margiela more recently (Margiela's parent company OTB's founder Renzo Rosso characterized him as "one of the greatest, undisputed talents of all time" in 2014), Galliano is a particularly well-known figure in the fashion industry and beyond.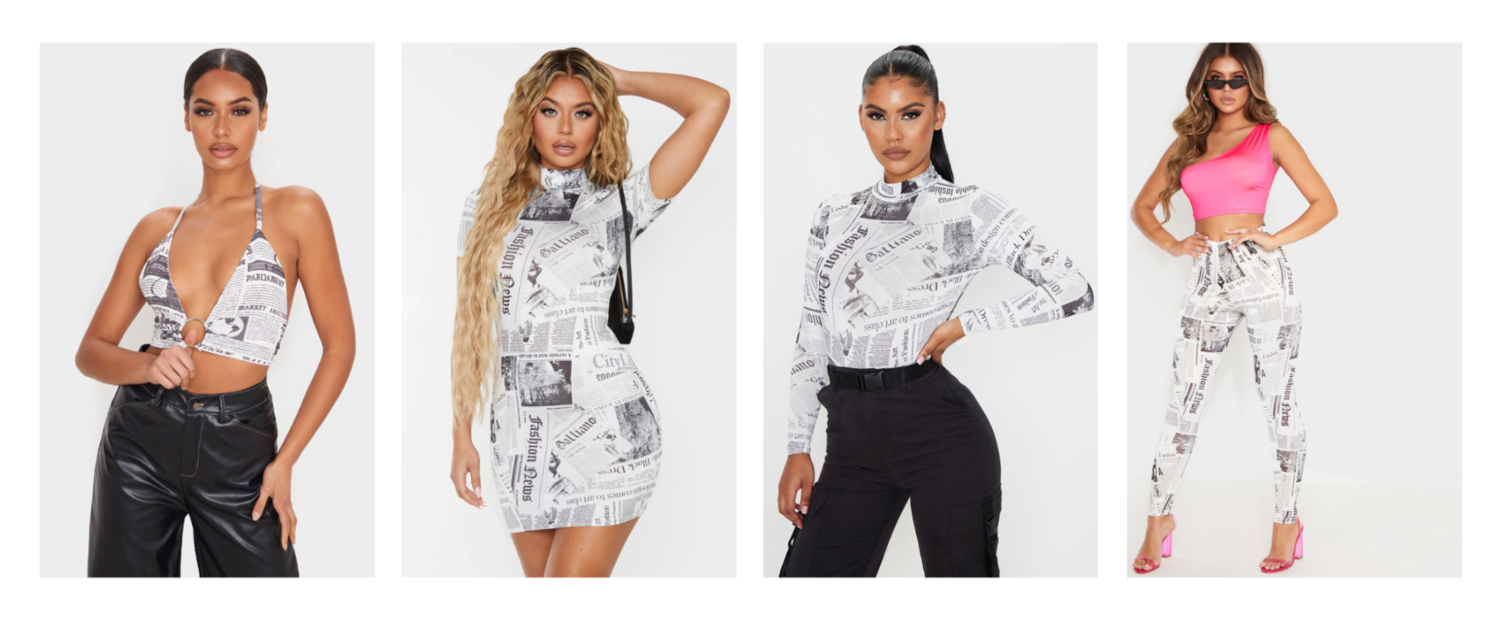 More than that, the particular newspaper print at issue (as distinct from the Dior print) could likely be deemed to be of heightened awareness or fame due to its adoption by celebrities – individuals from Kendall Jenner (courtside at the Staples Center) and Kim Kardashian to Rita Ora and Jennifer Lopez have been spotted in Galliano newspaper wares – and its relevance in pop culture more generally, thanks to its inclusion in countless articles, including those from the likes of Vogue and Harper's Bazaar to the Evening Standard, and in fashion-centric museum exhibitions.
Still yet, the pattern of high fashion-meets-fast fashion collabs is far from uncommon. H&M, for instance, has a decade-plus track record of pairing with brands ranging from Lanvin to Versace, while the likes of Missguided and even PLT, itself, have taken to pairing up with celebs/influencers, making such a potential tie-up between Galliano, the man or the brand, a possibility. As such, it seems as though, all of the "passing off" factors might be met.
In terms of legal action will actually come to be, it is not yet clear. Galliano would not be the first to take against against this new breed of fast fashion, which sees companies like PLT, Missguided, Fashion Nova, and Boohoo outpacing the former giants in this arena (i.e., H&M, Zara, Forever 21, etc.) in terms of speed from celeb-to-shelf and in many cases, in terms of low price. Kim Kardashian, for one, is still in the midst of the litigation she initiated against Missguided, accusing the brand of trademark infringement and right of publicity violations for using her name and images of her to sell its copycat wares.
What might be clear, though, is that a new wave of fast fashion fodder could be upon us, particularly as celebs like Kardashian and co. look to archival garments and accessories, and as brands – like Dior, for instance, which re-released its saddle bag (first sold in 1999) not too long ago – seek to profit from a rise in demand for nostalgia-soaked goods among millennial consumers.
As GQ style writer Rachel Tashjian mused on Twitter this weekend, a "new era fast fashion archival grail knockoff" is here, suggesting the potential rise of copycat versions of highly-coveted, readily sought-after fashion items from the past, whether it be Galliano's newspaper prints or Raf Simons' New Order parkas. And if PLT's newspaper-print offerings are any indication, she's right.
UPDATE (January 7, 2020): All of the newspaper printed garments that included Galliano's name and image have been removed from PLT's U.S. site, while other newspaper-printed garments (ones that do not include Galliano's name/image) are still available for sale.