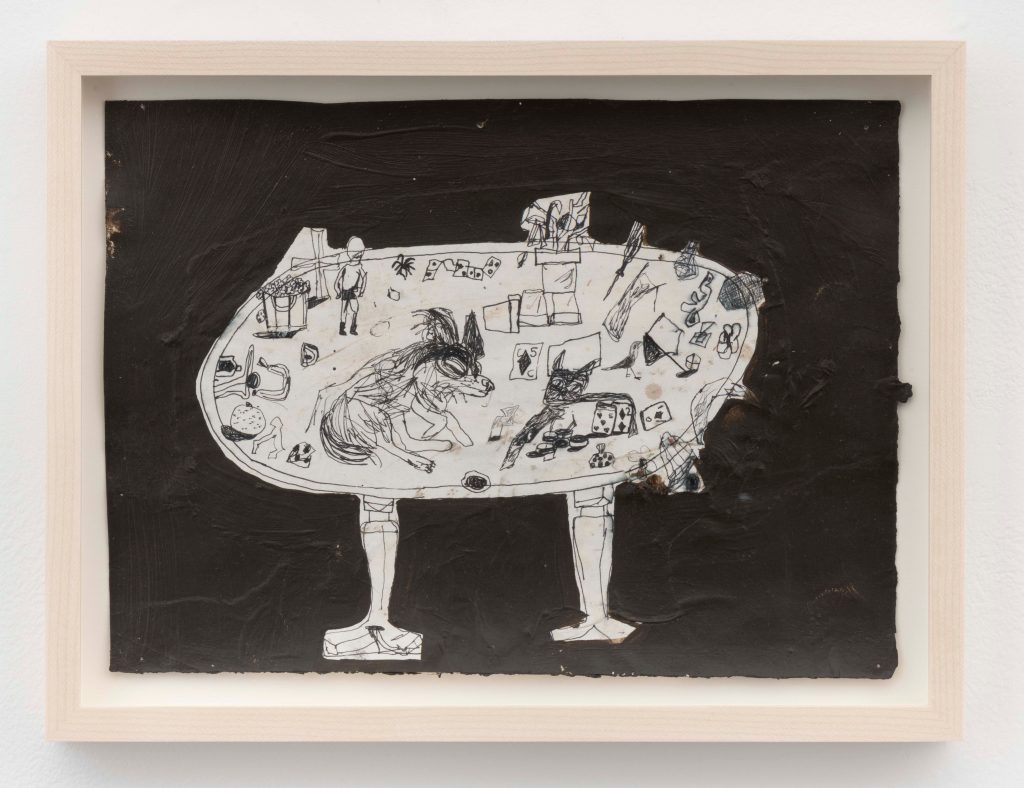 The exhibit is a group show featuring early work by Eddie Martinez alongside work by nine outsider, self-taught and American art brut artists that Martinez collects or is otherwise inspired by: Hawkins Bolden, Freddie Brice, David Butler, Willie Jinks, Joe Light, Laura Craig McNellis, Ike Morgan, Mary T. Smith and Billy White.
The exhibition emphasizes a set of shared formal mannerisms between the artists: flatness rather than a sense of perspective, a graphic line rather than finely wrought draughtsmanship. The works contain a sense of speed, immediacy and improvisation. Repeated figures assume a symbolic, spiritual or totemic quality.
Eddie Martinez has become known for work that joins together painting and drawing, abstraction and representation in non-traditional ways. The twenty-one works on paper and five paintings in this exhibition date from 2005 to 2009, introducing early forms of Martinez's personal iconography that continue to populate his practice today: tabletops, blockheads, sleeping men, flowerpots and birds. For Martinez, drawing has been a daily practice for over two decades. From quick and loose black and white compositions in Sharpie; dense and energetic tabletops with objects from edge-to-edge; minimal portraits punctuated by gobs of abstract paint and linseed oil, this selection of early works on paper can be seen as a microcosm for the largescale paintings for which he is best known for today.
Presented by Mitchell-Innes & Nash
NOVEMBER 24 – JANUARY 30, 2022
151 Northeast 41st Street, Suite 125
Miami, Florida 33137
Miami Art Week hours (Nov 29 to Dec 5, 2021)
Monday to Friday: 12:00pm – 8:00pm
Saturday and Sunday: 12:00pm – 6:00pm
Regular hours (from Dec 6, 2021)
Wednesday to Friday: 12:00pm – 8:00pm
Saturday and Sunday: 12:00pm – 6:00pm