Wherever he goes, Guadalupe Maravilla plays a childhood game called tripa chuca, or 'rotten guts'. Two people take turns connecting numbers on paper by drawing lines that cannot touch, creating a map that tracks how they charted a path in relation to each other. Maravilla played tripa chuca throughout his journey from El Salvador to the United States in 1984 when, at age eight, he joined a wave of unaccompanied and undocumented children escaping civil war at home to cross the US-Mexico border. He played with everyone: the 'coyotes' who transported him, those he was sheltered by, and the kids he traveled with. 'It's always been a way to bond with people,' Maravilla has said. So, before every exhibition, he invites someone to draw on the gallery walls with him.
For his 2022 MCA Denver show, Maravilla played tripa chuca with Mongolian-born artist Eriko T., a fellow recipient of DACA (Deferred Action for Childhood Arrivals), which prevents deportation from the US. From adolescence to early adulthood, Eriko T. was considered undocumented; an experience that Maravilla shares, albeit under different conditions. (He obtained US citizenship in 2016.) Within this 'politically binding quarantine system,' Eriko T. has said, 'I have learned the value and meaning of how one could be limitless within limit.' That perspective translates to how Maravilla uses tripa chuca to transform white-cube partitions into wayfinding cartographies seeking pathways to empathy. 'We're not only playing the game, we're sharing stories,' Maravilla says, as we sit inside the exhibition hall where his work is installed for the 14th Gwangju Biennale. 'It's a connection between myself, the land and spaces that I go to, and who lives and migrates there.'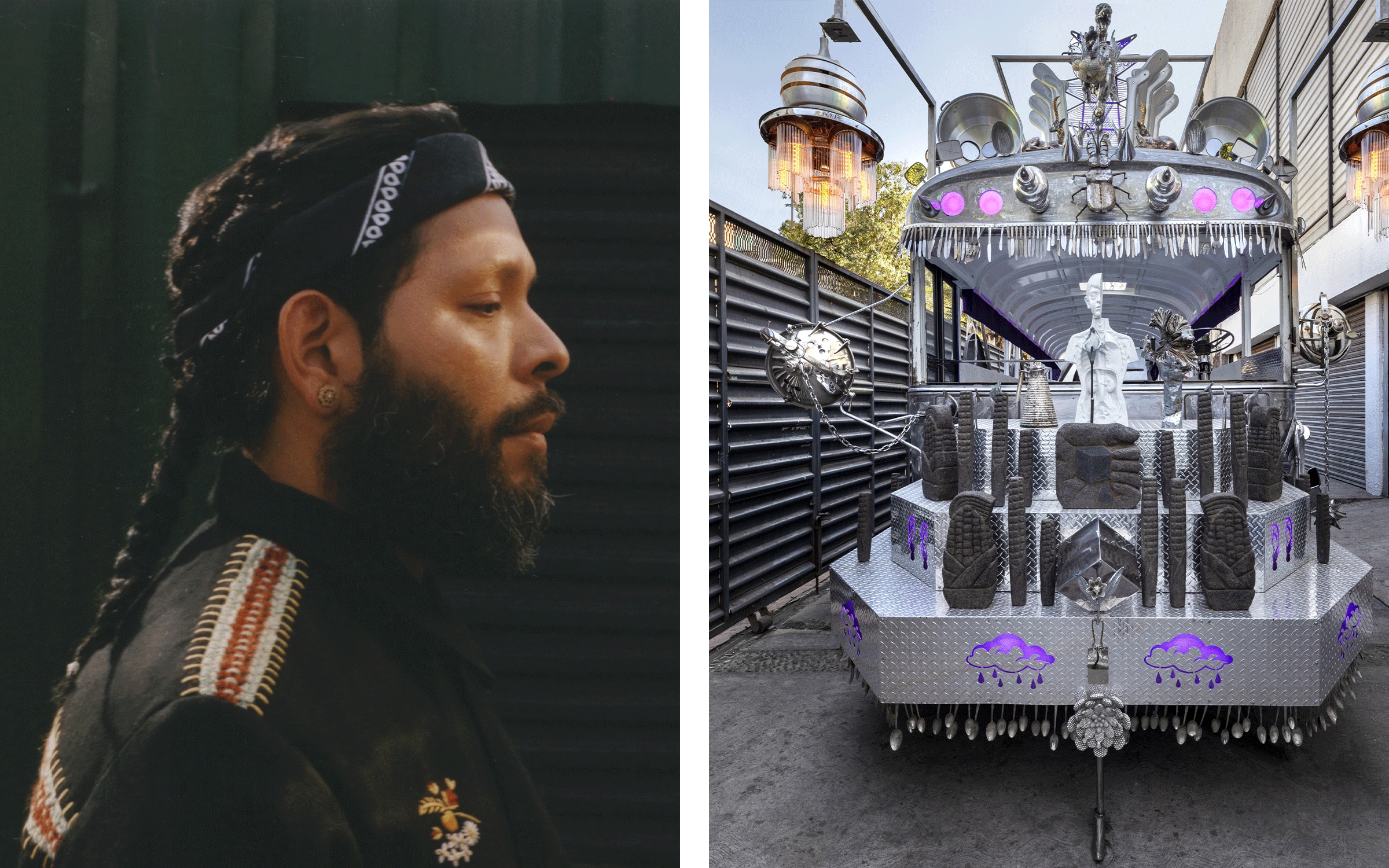 In Gwangju, Maravilla played tripa chuca with North Korean defector Kang Ji-hyun to create the silver lines contouring three pale blue walls. They zigzag, snake, and, at times, start and end at sequined embroideries of red limbs on white floral grounds. In one circular piece, a hand holds an ice cube from which two red drops fall; a reference to ICE (US Immigration and Customs Enforcement), and the policing of borders that scores worldwide have been forced to cross without safeguards.
Of course, displacement is a kaleidoscope of experiences, so every tripa chuca creates different interactions. For his solo show at Henie Onstad Kunstsenter in 2022, Maravilla couldn't find an undocumented individual in Norway, so he invited a previously undocumented person in America to take their first trip abroad since acquiring their green card. Created amid the pandemic, a tripa chuca commissioned by Portland State University in 2021 was drawn by Heldáy de la Cruz and Puma Tzoc, with Maravilla connecting remotely. De la Cruz is a graphic designer, illustrator, and community organizer. Tzoc, born in Guatemala, is Coordinator of the Collective of Indigenous Interpreters of Oregon; he became an interpreter after witnessing the treatment of detained people.
These stories reflect the spirit of community and care that drives Maravilla's work. In Gwangju, he's quick to mention Kang's clothing brand, Istory, which turns stories of North Korean defectors into images on T-shirts, with QR codes on shirt tags connecting to a webpage describing their lives. Ten percent of Istory's proceeds go towards helping defectors settle in South Korea, Maravilla tells me – a fact that speaks to his own interest in generating microeconomies through his art. Retracing his migration journey, he employs artisans to fabricate his works, including elements composing sculptures that also contain items selected from markets along the way. 'With the budgets I have, I don't just take or buy objects along the route that I crossed,' Maravilla explains, 'I generate jobs for people.' It's a way to heal while preventing others from taking the same path as him, because he's creating reasons to stay.
This holistic approach to healing defines Maravilla's practice, if not his life's purpose; 'It's not just the sculptural work,' he says, 'it's the whole thing.' He connects the stress of being undocumented – plus the generational traumas of war, migration, and family separation – with the colon cancer he discovered as a graduate student in New York City. Turning his sickness into his muse – 'cancer was rough, but it was magical for me. I met all these beautiful people, all these healers' – he combined treatments like chemotherapy with Indigenous and alternative healing practices. Sound baths, a sonic meditation utilizing vibrations made with gongs and other instruments, were especially effective, becoming central to the 'Disease Thrower' sculptures Maravilla started making post-recovery in 2019.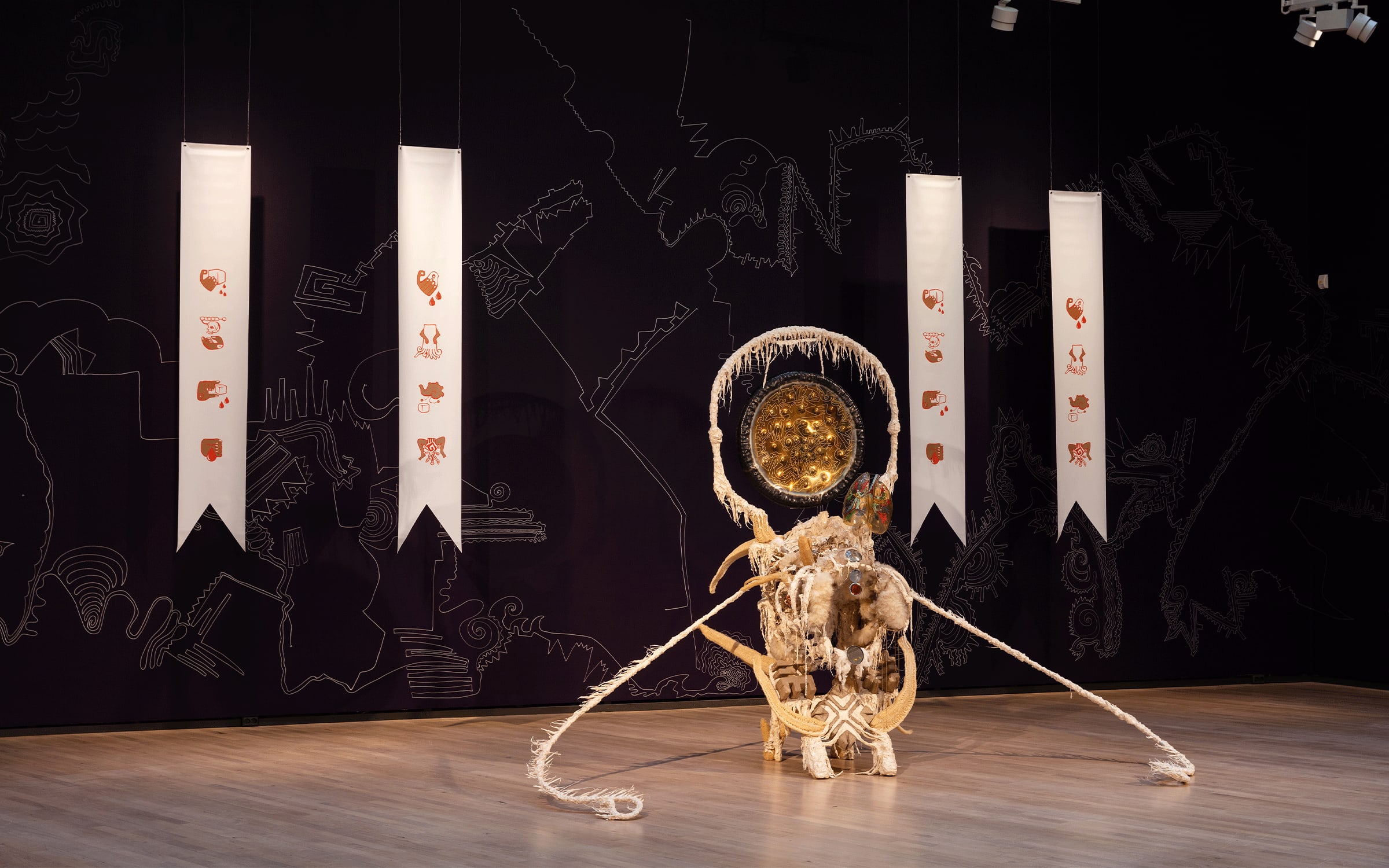 Each 'Disease Thrower' – named to invoke the protective gods of Mayan mythology – is an assemblage of forms bound by steel skeletons often coated in a bone-like material that Maravilla makes by 'cooking' fibers in the microwave. (A material he's trying to patent.) Recalling a feathered serpent's head emerging from the ground mid-roar, Disease Thrower 12122012 (2022), whose title logs the date of Maravilla's cancer diagnosis, is a shrine, tool, and living entity – Maravilla believes all things contain a life force. Loofah horns rise up from an upper jaw while wooden hands stretch out at the base. ('Disease Throwers' often contain representations of organs or limbs, like votive offerings.) Selenite daggers on either side point inwards, gesturing towards a gong hanging at the back of the sculpture like an uvula, which emits the same frequency as the sun. Other gongs produce different planetary frequencies. Like the one tuned to Earth for Disease Thrower #11 (2021), which is activated when individuals lie on its wicker bed and Maravilla, now a trained sound healer, stimulates the instrument.
By his count, Maravilla performed 120 sound baths in the first nine months of 2022, the year he staged four solo museum shows, including 50 – half exclusively for cancer survivors – at MoMA. And their resonance extends beyond the ceremonies. In New York, Maravilla holds sessions at the Church of the Good Shepherd in Bay Ridge, a collaboration that intensified during COVID-19, when he crowdsourced funds for the church to support immigrant families. Then, in 2022, when Republican governors forced asylum seekers to bus to 'sanctuary cities' like New York from Texas and Florida, Maravilla raised donations with activist Mariana Parisca and church pastor Juan Carlos Ruiz, turning his gallery, P.P.O.W, and the Brooklyn Museum, where he had a show, into drop-off sites.
More recently, Maravilla gave his USD 100,000 Art for Justice grant to the church; 'every cent went to the community.' These efforts grow the microeconomies the artist instigates, as if tending sown seeds. That philosophy infused his largest tripa chuca to date created for his 2021 show at Socrates Sculpture Park, New York. Using water-soluble paint, Maravilla and a fellow cancer survivor drew ephemeral lines within a circle of medicinal plants and vital crops for Indigenous communities in the Americas. Watching over the garden was Disease Thrower #13 and #14 (both 2021), each featuring a gong held by forms made from recycled aluminum and stainless steel tubing, evoking landmasses created when tectonic plates shift and volcanoes erupt – a rebirth after upheaval.
That idea of continuity explains why the creation of a temple, whose design he's already envisioned, has long been Maravilla's intention. 'It's about building the structure,' he says; a form that perpetuates the practice beyond him. That goal has since manifested as Mariposa Relámpago, a school bus transformed into the world's largest vibrational healing instrument – what Maravilla calls 'the first temple' – for his ICA Watershed show opening in Boston this May. Initially, the idea was to transport a bus bought in El Salvador along Maravilla's migration route from Mexico City, where local technicians and artisans would help transform it, to the US. But when it transpired that the bus was stolen in America by a Chinese company and resold to El Salvador – 'It was under FBI investigation' – Maravilla bought another one in Mexico and had cardboard miniatures take the journey instead.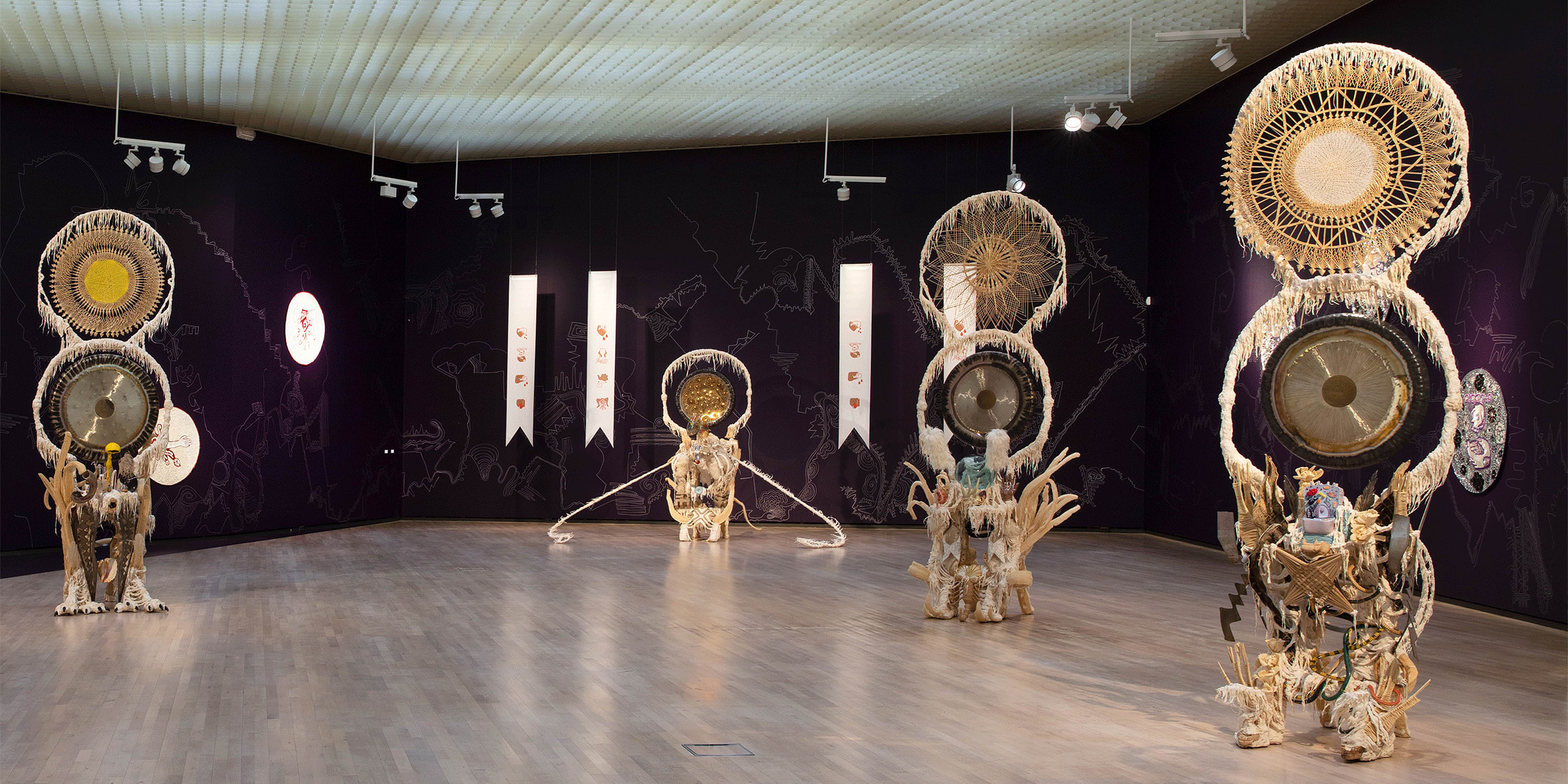 Mariposa Relámpago was outfitted in Mexico City with four gongs and over 800 objects – some fabricated and others collected from markets – plus 90 volcanic rocks from El Salvador blessed by shamans. Its first sound activation, held in Mexico City on March 6, 2023, concluded with the unexpected reverberations of 'La Bestia', a freight train whose roof annually hosts around 400,000 people hoping to cross the US-Mexico border. 'These moments are important,' Maravilla notes; 'when things just happen.' That importance becomes deeply personal across eight retablo paintings that Maravilla composed for his ICA Watershed show. Rendered by collaborator Daniel Vilchis, a fourth-generation retablo painter in Mexico, each composition recounts a detail from Maravilla's migration. Like the day his journey began without warning, leaving no time for goodbyes; the flight attendant who showed him unforgettable care on a plane from California to New York; or when he arrived in Mexico City and remembered his mother blasting Mexican ballads in El Salvador to drown out the sounds of guns and bombs.
'It's never just this simple thing,' Maravilla says. 'Yes, things were hard. But I also have beautiful memories of my childhood.' Describing optimism as the first medicine, he points out that he was in a Menudo cover band, an iconic Puerto Rican pop group, in the middle of a civil war; 'Dancing has always been part of it; and the music, the joy, the community.' Everything infuses the cosmology that Maravilla believes defines every life: a perspective that circles back to tripa chuca, where individual worlds connect in a spirit of play to navigate the space between them.
Guadalupe Maravilla is represented by P·P·O·W (New York). His work is on view at the Gwangju Biennale, until July 9, 2023.
Stephanie Bailey is Art Basel's Conversations Curator, Art Basel Hong Kong, as well as the Art Basel Content Advisor and Editor, Asia.