'I was always interested in painting. As a teenager, in the early 2000s, I attended a government-led cultural institution for the intellectual development of youths, with campuses throughout Iran. Several great Iranian filmmakers and artists came out of it. Our teacher told us about a book called Drawing Method Vol.1 (1974) written by the Iranian artist Mohsen Vaziri-Moghaddam. It examines the relationship between drawing and art history, and had a great influence on me. By age 14, I knew I was going to pursue art professionally – although I am still not entirely sure that makes me an artist.
'When I started going in this creative direction, I found that both my body and mind had to adapt. The process has been gradual and I am still trying to find the perfect balance between mind, body, and soul – as well as feeling myself in the moment of creation. As a teenager, I was really into performance: I went to the theater a lot and I even wanted to perform myself. I love to feel my body becoming fragmented when I practice yoga, for example. Even singing is a form of practice for me, though I am a terrible singer. In my works, I actively bring the canvas into the exhibition space. The success of my 2021 series 'In Appreciation of Blinking' gave me more confidence to do so. It was exhibited at Parallel Circuit gallery in Tehran in 2021 and at Nathalie Obadia in Paris in 2022.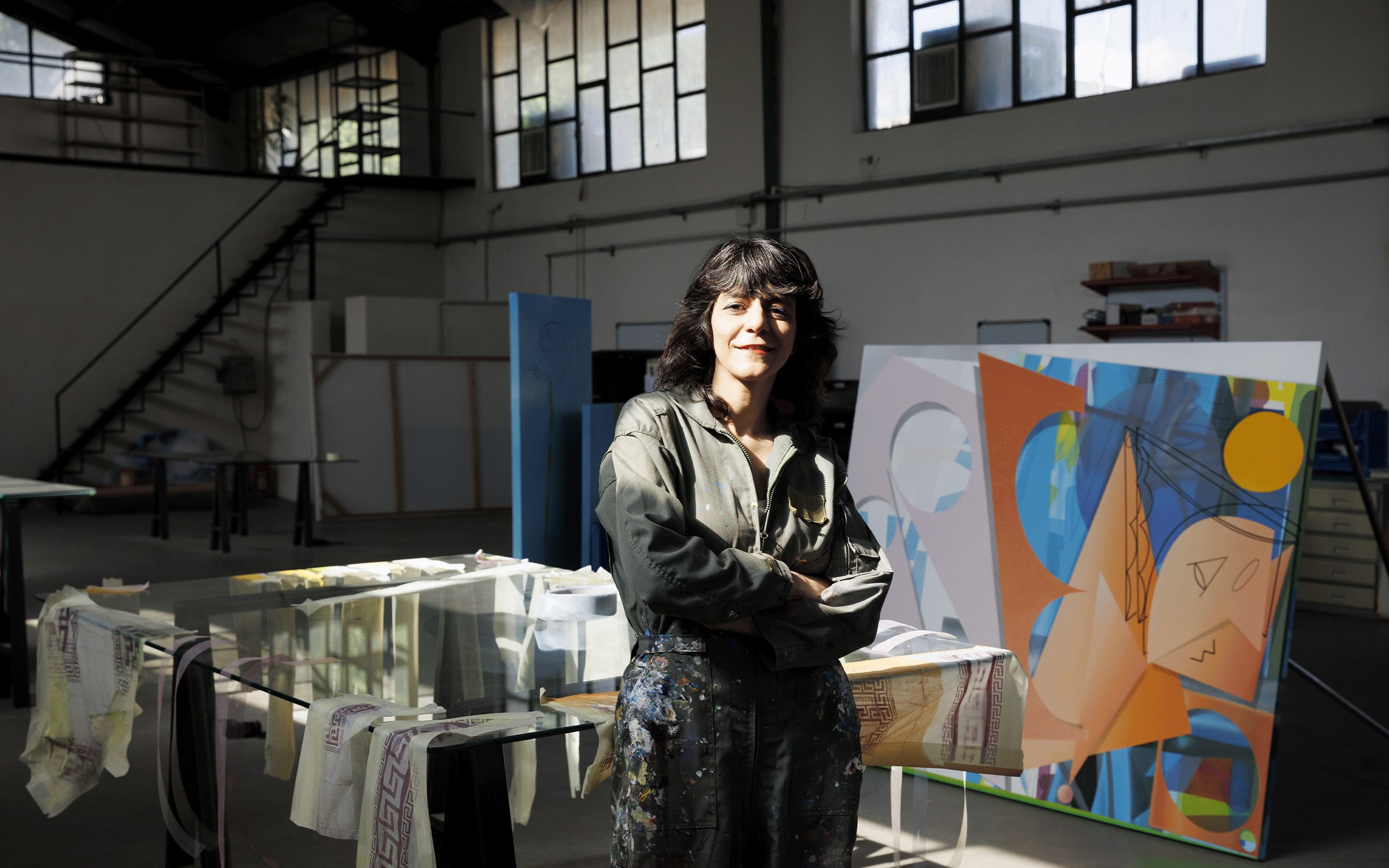 'At 18, I started studying painting at Tehran University, where I earned my BFA. Later, at 25, I moved to the US to study at Boston University. The art scene in Tehran was so small; Boston was vast in comparison. One thing I found exceptional about the US program was that every student had their own studio. Each week, we had artist talks and studio visits. I didn't yet know how to speak about my art and, having artists visit my studio – some of whom liked my work, while others didn't – felt confusing at first. Over time, I understood that the process was more important than the result, and that not only am I witnessing others but I am witnessed by others. This might be why eyes are a repeating motif in my work. After my studies, I was back and forth between Iran and the US until Trump's travel ban in 2017. Basically, I had begun to feel very disconnected from the place in which I grew up.
'I am the kind of artist who believes in a strict daily routine. I wake up in the morning, eat breakfast, do yoga, then my assistant comes around 10:30am, and we work until the evening. I've discovered that, if I follow this routine daily, magical things can happen. My work doesn't adhere to a single path: at times, it's more cartoonish; at others, more realistic. There are moments when I am inspired by movements such as Cubism, Futurism, or the Russian avant-garde. I don't actively seek to incorporate elements of Iranian art, but I can see its influence coming through. My works don't carry a signature – I reject the notion of the single master artist – and I enjoy taking my practice in different directions, although there is a strong narrative element to everything I do: when I paint, I tell a story.
'I always loved incorporating art-historical references into my works. Around 2015 I started to look closely at Impressionist painters in particular, because of their intelligence, the speed with which they were able to paint, and the ways in which they depicted light. By capturing moments, they destroyed linear narration. More recently, I have been inspired by the way in which words and images merge in Iranian miniature paintings and Japanese woodblock prints. Around 2017–18, I became fascinated by the emojis and other images I saw online, and my works began to look more like collages – a shift that was particularly noticeable in my 2018 series 'Crashed into the Sun'.
'In the past decade, I have explored the difference between linear and nonlinear narration. The notion of linear narration is basically a big lie, because life doesn't follow a straight path. Having studied in and traveled to several places, elements from these experiences have inevitably shaped the way I approach my art. It's like a puzzle I'm trying to put together. And after Ukraine International Airlines flight 752 was shot down by the Islamic Revolutionary Guard Corps in 2020, many people in Iran started sharing black squares on Instagram in solidarity. This prompted me to think about black, specifically Kazimir Malevich's Black Square (1915), and so I began incorporating black squares into my own paintings.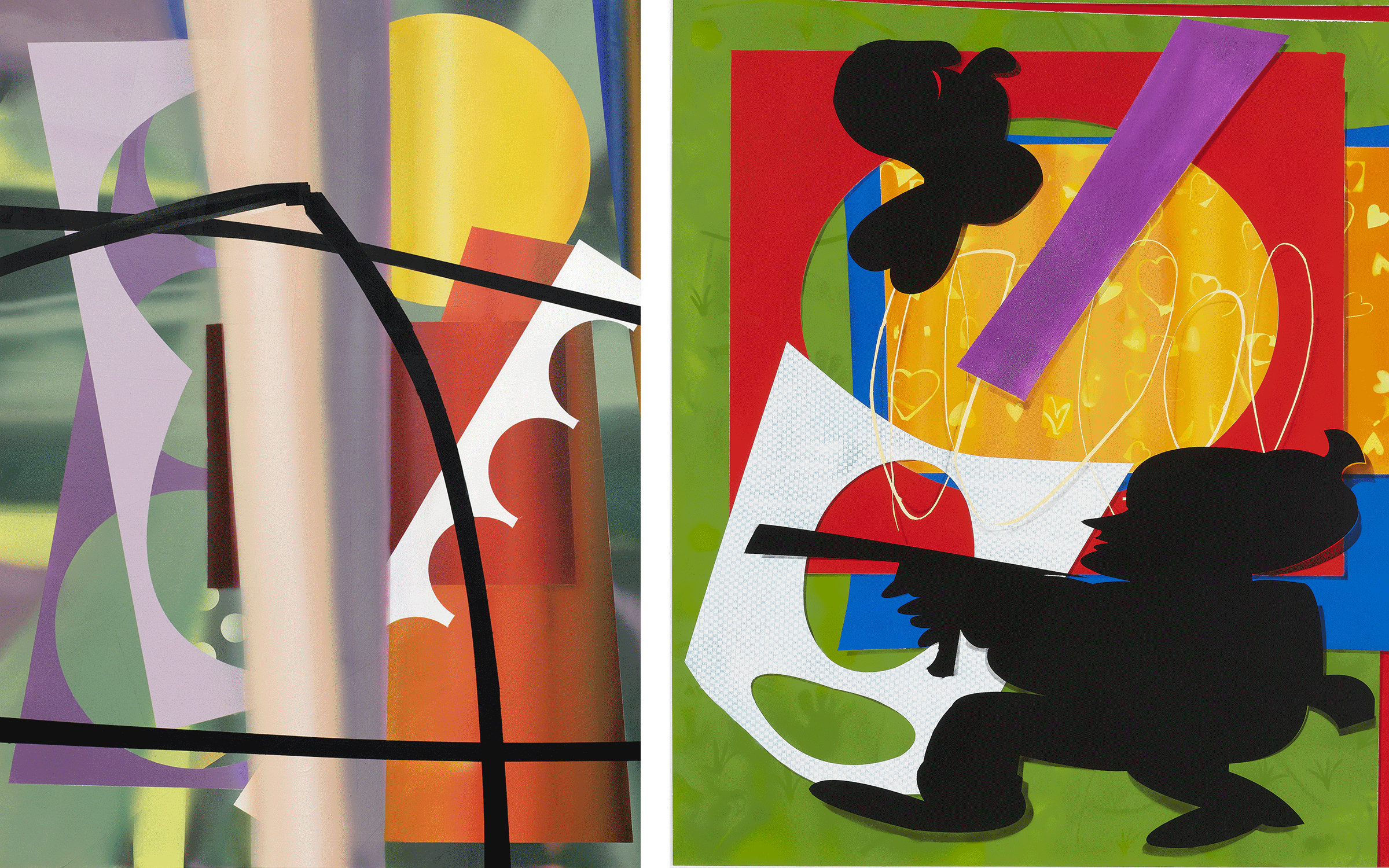 'The protest movement that has been gaining momentum in Iran since the death of Mahsa Amini while in police custody last year has prompted me to change the focus of my work. The female body is clearly at the center of this movement, and a big theme in my work is the fragmentation of bodies: how they have been censored, how they have vanished, and how they can form social continuity – power can delete a body, but cannot cut it from its root. Physically, that body no longer exists, but the idea and the soul remain and continue in other bodies. The Iranian protest movement has led me to articulate much better why I work with bodies and also to feel a stronger sense of connection to my homeland. A lot of great performances have taken place in the streets during the protests, which have given me more and more ideas for my work.
'Nowadays, I am increasingly curious about experimenting with other art forms. In addition to painting, my forthcoming solo show at Galerie Nathalie Obadia, Brussels, in September will feature works of embroidery, installation, and sculpture, which I have used to create a kind of playground. It's important to have a sense of humor in everything I do, so hopefully viewers will find it amusing, too.'
Hoda Kashiha is represented by Galerie Nathalie Obadia, Paris and Brussels.
Hanno Hauenstein is a journalist and critic based in Berlin. He has worked as a senior editor for Berliner Zeitung and written for publications including Frieze, Zeit Online, and Haaretz. Published courtesy of Art Basel.